We can't help but always go back to the classic Dr Suess costume range, with the iconic red and white striped top hat, no one will mistake you for anyone but the Cat in the Hat!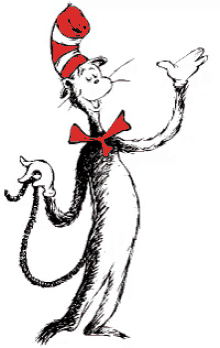 For the whole Cat in The Hat costume range (including Thing 1 and Thing 2 costumes) shop HERE
Including a hat, bow-tie and gloves, we love these awesome Cat in The Hat costumes for kids and adults. Fill the costume out with a simple black morph suit and you're good to go!
Shop Dr. Seuss The Cat in the Hat - Cat with Hat Childs Accessory Kit HERE
Shop Dr. Seuss The Cat in the Hat - Cat with Hat Adult Costume HERE
Thing 1 and Thing 2 are up to their usual mischief! Standing with the likes of Banana's in Pajamas and JK Rowling's Harry Potter and Ron Weasely, Thing 1 and Thing 2 reign as one of the most iconic duos in childrens literary history!
Partner up with a friend for your next costume party, Book Week carnival, school carnival/disco or halloween in these awesome Thing 1 and Thing 2 costumes!
Shop Dr. Seuss Cat in the Hat - Thing 1 and Thing 2 Wig HERE
Shop Dr. Seuss Cat in the Hat - Thing 1 and Thing 2 Kids Wig HERE
As iconic as the Eiffel Tower, Dr.Seuss's famous top hat is here!
Shop Dr. Seuss The Cat in the Hat Hat HERE
Our range of best selling costumes is perfect for book week costumes includes disney costumes, snow white costume, princess jasmine costume, ariel costume, the little mermaid costume, belle costume, beauty and the beast costume, tinkerbell costume, peter pan costume, alice in wonderland costume, mad hatter costume, queen of hearts costume, superhero costumes, batman costume, batgirl costume, cat woman costume, wonder woman costume, superman costume, spiderman costume, supergirl costume, spidergirl costume, the flash costume, the hulk costume, iron man costume, avengers costumes, the incredibles costumes, minions costumes, the wiggles costume, emma costume, despicable me costumes, star wars costumes, princess leia costumes, luke skywalker costumes, chewbacca costumes, darth vader costumes, pirate costumes and more.
Our range of era costumes includes best sellers perfect for 1920's costumes, 1950's costumes, 1970's costumes, 1980's costumes, 1990's costumes, great gatsby costumes, abba costumes, burlesque costumes, flapper costumes, disco costumes, saturday night fever costumes, disco jumpsuit costumes, shell suit costumes, 1920's gangster costumes, hippie costumes, diner costumes, grease costumes and more.
Our costumes range is perfect celebrations and holidays with international costumes and country costumes. These include arabian costumes, christmas costumes, easter costumes, oktoberfest costumes, mexican costumes, spanish costumes, day of the dead costumes, cinco de mayo costumes, german costumes, book week costumes, halloween costumes and more.