With Christmas over, Easter is next! And we're getting our chocolate stash ready!
I think we can all agree that this is all of us when we see Easter chocolates on display in Coles and Woolies.
Alrighties, down to business! With Easter looming, we've got to get the costumes sorted, whether for the kids, an Easter morning suprise or for an Easter party!
SHOP Easter Bunny Costume for Adults
For something on the other side of the Easter spectrum, for shaking things up a little bit...
SHOP The Rabbit Mask!
For the kids, this set is a no-fail! SHOP Kids Easter Bunny Set
Bunny Rabbit Child Set comes with; Bunny Ears, Bunny Head-Tie and a Bunny Tail.
SHOP: Easter Bunny Accessories: Bunny Tail
SHOP Easter Bunny Ears (Pink/White)
SHOP Easter Accessories: Easter Bunny Nose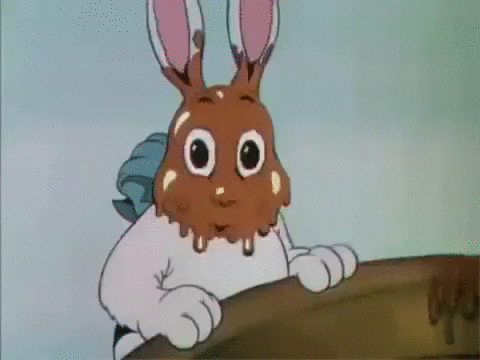 Curious for more costume offerings? Rest assured that we'll have that all settled. For more Easter costumes, browse through our Eatser costume offerings; including, easter bunny costumes, easter party supplies and easter decorations. We've got your easter bunny ears, tails and head-pieces all covered! Now it's time for the chocolate!
Browse through our costume categores for more costume offerings, ranging from superhero costumes, mamma mia costumes, lonney tunes costumes, cartoon character costumes, celebrity costumes, kids costumes, party supplies, party decorations, hawaiian costumes, tropical costumes, beach party costumes and party supplies, movie character costumes, supervillain costumes, party costumes, international costumes and special event costumes; easter costumes.
Our costumes cater for mens costumes, womens costumes, chidrens costumes and cover party supplies/decoartions. We have something for every event, whether you're looking for a costumes for a birthday party, easter costumes, april fools day costumes, toga party costumes, dress up costumes, valentines costumes, beach costumes etc.
With fast, Australia-wide and international shipping available for all of our costumes, you'll be sure to get your costume in time for your special event!